We supply all spare parts for Cool Machines Insulation Machines and Vacuums.
We provide professional support and can advise on ongoing machine maintenance.
Direct telephone support to our machine customers is one of our trademarks. Local dealers are also available in many European countries which have the opportunity to provide professional support on their native languages.
You are always welcome to contact us either by phone, e-mail or by our contact form, then we will contact you, offering our support to solve your machine problem.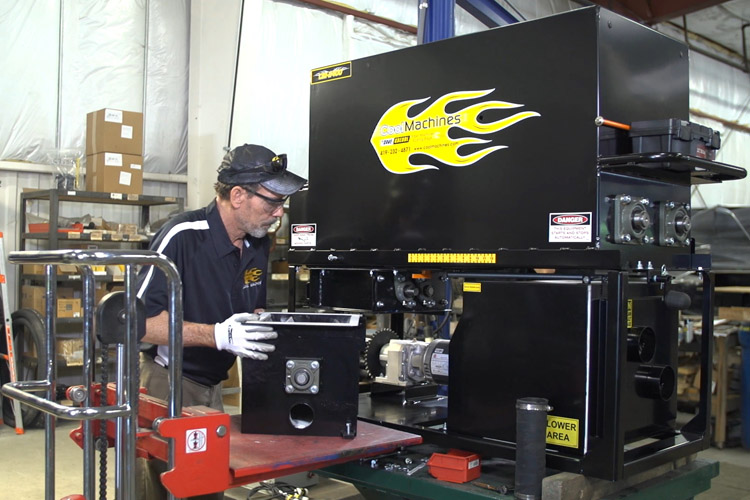 On this page, we present a series of videos with instructions on how to do regular service maintenance on your insulation machine or on your vacuums.
Cool Machines insulation machines and vacuums units are designed for easy servicing by the installer or local craftsman.
Service and spare parts can be supplied upon short notice.
If you have questions in regards to the assembly you may either check out the videos below or contact us by phone for guidance, do not hesitate to contact us for any kind of support.
Replace airlock seals on a Cell Mach 1500
This video shows how to replace airlock seals on an older Cell Mach 1500 from Cool Machines.
Worn-out airlock seals reduces the blowing capacity of the insulation blowing machines. It reduces the pressure in the hose and thereby slows down the material flow and may prevent you from reaching the required material density due to lack of pressure.
It may also show in the material hopper where air pressure will be released into the insulation material instead of the hose. Replacing airlock seals is quite simple. You can order airlock seals at the nearest dealer. If necessary, when fitting the new seals, use Talcum powder in the airlock, it will enable you to easier turn the airlock rotor.
Maintaining a CM-1500
Se how to service the Insulation Blowing Machine.
Language is both Spanish and English.
Maintenance of a CM-1500 is pretty easy.